ProStock are proud to offer a new service to all our clients to help take the strain from your busy workload. Our VetTech are trained to undertake many routine management tasks to allow you to focus on running your farm business.
Cost effective - gives you the time to do the jobs only YOU can do
Total flexibility - completely tailored to your farms needs
Guarantee the job gets done - first time, on time
ProStock Expert Veterinary back up - full support of the wider Vet team
Calf Tracker
Healthy calves turn into healthy profitable cows. Keeping a close eye on youngstock    performance is key. We can offer several monitoring services including total proteins for colostrum transfer, pneumonia scoring and growth rates to ensure your calves are on the right track.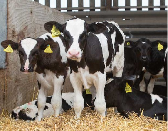 Mobility scoring
Early detection of lameness is key to effective treatment success. After collecting your herds scores you will receive a full report including any   animals that need separating off and treating ASAP.
Foot Trimming
Whether you need regular routine trimming or have occasional lame cows we can tailor a package to suit your farm needs.
Disbudding
A stitch in time saves nine. Often a job at the bottom of your to do list, our technicians will remove horn buds at the earliest possible stage, saving you valuable time.
Diagnostic Sampling
From dung to blood to milk, our trained technicians can take a wide variety of samples. Which means quicker diagnosis driving the correct most effective action.
Cattle Drenching and Bolusing
Our VetTechs are available to help for a wide range of jobs where an extra pair of hands are needed.
Vaccination
Ensuring your youngstock are getting the right vaccine at the right time is key to maximising their health in their early weeks of life. Our trained VetTechs will look after the entire process for you from transporting the vaccine onto farm under the right temperatures, selecting, injecting and accurately recording which animals have been vaccinated.